Sous Vide Cooking Is Futuristic
By Weena Pradhan, Hab Life Evangelist
I had thoroughly enjoyed watching John Wells movie "BURNT" starring the brilliant Bradley Cooper and was in complete awe of the kitchen scenes. As serendipity would have it dined at Novella, the rooftop poolside restaurant in Chennai at Hablis, that serves European fusion food the very next day. Got chatting with the Head Chef and expressed the urge to write about sous-vide cooking. Chef Sathya is a product of the Michelin Star hotel in London. I was fascinated! To appease my curiosity, Chef Sathya (CS) took me over to the cooking counters and pointed to a compact machine which bubbled with water and some food packets. "So that is the secret of the fine food you just tasted, its called sous-vide cooking", he said.
I found it so interesting, I had to write about it. So here goes…….

Me: Tell me what is this sous-vide cooking all about.
CS : Sous-vide literally means 'under vacuum' in French. It is a method of cooking wherein food is sealed in air-tight plastic bags and placed in a temperature controlled water bath, or a steam environment. The temperatures set in this method are generally much lower than normal cooking, typically around 55-60° C (131-140° F) for meat, and higher for vegetables.
Me : What is the advantage of this method of cooking?
CS : It ensures that the insides, as well as the outer layers of the food, are uniformly cooked and retain moisture.
Me : So, no water is used to cook the food?
CS : Yes, sealing the food in air-tight plastic bags retains the juices and the aroma that otherwise would get lost in the process. Every food has a certain desired final cooking temperature. So by setting that temperature, we avoid over-cooking, because the food cannot get hotter than the bath it is in. With proper setting of time and temperature, even irregularly shaped or thick items get cooked uniformly.
Me : Why is temperature control so important?
CS : Because lower temperatures result in much higher succulence. Unlike food cooked on high temperatures, the sous-vide cooking method does not allow cell walls in the food to burst. Meats do not lose their moisture and vegetables while being cooked just right (and pasteurised too) attain a somewhat firm and crisp texture. Besides, the spices and ingredients added and enclosed within the bag transfer their flavour directly to the item being cooked.
There are three simple steps to cook the sous-vide way:
1. Season the food with your favourite herbs and spices
2. Vacuum seal the food in a food grade plastic pouch
3. Drop the pouch in the water bath with the set temperature and walk away to attend to other jobs.
Me : All this sounds too cool. So is this the best method to cook then?
CS : There is only one limitation, that of browning. Since the flavour or the texture achieved by the browning of the food cannot be obtained with the sous-vide cooking technique, we do it before or after placing it in the water bath, by a simple 'searing' that gives us the best of both the worlds.
Me : How safe is food cooked this way? What about using the plastic bags?
CS : It is perfectly safe to eat food cooked the sous-vide way, because time and temperature compliment each other in rendering it safe. However, people prescribed pasteurised food can avoid it.
Food grade plastic, polyethylene is used to prepare these specially formulated bags, hence no cause for concern.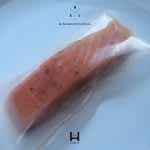 Salmon with crushed pepper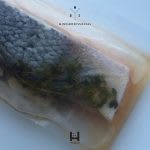 Salmon with thyme, pepper, rosemary, salt and olive oil
Now for some vegetables………
Vegetables in the cooking pouch ready to be dropped in the sous-vide apparatus
Me : So is this method of cooking only for restaurants or can we use it for domestic cooking too?
CS : Sous-vide cooking technique is used in many high-end gourmet restaurants by master chefs all over the world. Amtrack, the popular American passenger rail-road service uses this method for meals served on their trains. Sous-vide cooking has taken cooking shows on television by storm. Non-professional cooks have started using this method too because it is hassle free. In our restaurant kitchens, we use the most superior sous-vide equipment, but less expensive ones are being made available for domestic cooking in the last few years.
Sir Benjamin Thompson first introduced this technique as long back as 1799 and since then has gone through a lot of improvements to make it the technique it is today.
Me : What kind of foods can you cook sous vide?
CS : All kinds actually! Meats like beef, pork, lamb, chicken, or poultry. Fish and sea-food are best cooked the sous-vide way as there is no fear of over-cooking. Almost all kinds of vegetables and fruits cooked this way yield delicious results. You can even make custard-style ice cream base, béarnaise sauce, crème anglaise, custards, cheese, yogurt, beer, and some cakes. Just about anything that requires a precise temperature to cook properly can be a candidate for sous vide cooking.
A few basic food safety tips :
Whether cooking sous vide or with other techniques, it is best to follow these practices :
Make sure food is fresh, of high quality and thoroughly cleaned.
Don't cross contaminate – use separate cutting boards and storage units for different food, such as vegetables, ?sh, fruit, poultry, and meat.
Cook all food properly. Most bacteria are killed at 130F/54.5C, and most sous vide cooking temperatures are higher than that, but it's a matter of both temperature and time as mentioned earlier.
Serve food right away or follow proper storage and chilling practices, so that you do not leave food out at unsafe temperatures for more than an hour.
For additional food safety and handling tips, we recommend visiting an approved food safety site such as www.foodsafety.gov, www.foodsafety.org or www.fda.gov
And here is a site to find sous-vide recipes : Anova.
My main course had arrived at my table and we walked back. Chef Sathya pointed out to the braised lamb on my plate and said meats from sous-vide cooking always emerged more pink and juicier. And he added, "when cooking sous vide, most foods will taste just as good even if they spend a few extra minutes at a target temperature, letting you relax and attend to the more interesting and creative aspects of cooking. A final important benefit is that the closed bag creates a fully humid environment that effectively braises the food, so ingredients cooked this way are often noticeably juicier and tender".
He took leave of us with a promise of putting together a sous-vide workshop soon if we could form a group and give him a date. So, if you are from Chennai and are keen on familiarising yourself with sous-vide method of cooking or dining at their fine-dining rooftop restaurant, you can contact :
We, at
Hablis Hotel Chennai
, are always improvising our cooking methods and trying to bring out the best nutrients in all cuisines. Our initiatives are directed towards offering a holistic and rejuvenating experience to guests heading to our hotel in Guindy, Chennai. 
Hablis Hotel Chennai, 19 GST Road, Guindy, Chennai 600032. Tel : +91 44 4023 5555